Play Bubble Shooter Online Games
Instructions: In Game Instruction/Help
Bubble Shooter:
Bubble Shooter
Play Bubble Shooter directly in your browser, here at Bubblegames.online. The Bubble Shooter game is very simple, so we think you can understand the rules – otherwise, you can scroll further down the page to find out more.
Play Bubble Shooter! In this game, you must match at least 3 bubbles of the same color in order for them to appear. If you miss a shot, more bubbles will appear in the game. You want to get as many bubbles as possible. You can shoot the bubbles in a small diagonal. So if you have a small passage (just a bubble width in your views, you can usually hit a bubble in there.) Also, aim to face the walls, which offer many opportunities in your life. Bubble Shooter career. A bubble is deleted before a resurrection takes place, so the bubble is off for the rest of the playing time. At one point there will be only one color bubble left, only one hit and the game is over. The shooter is a great game!
Bubble Shooter – an all-time classic
You may think that old simple games disappear slowly for a moment like this with continuously improved graphics in extraordinary games with beautiful scenarios – but that's not the case. The new games are not there to replace the classics of the game like Bubble Shooter, but they act as providers of an option. A classic does not become a classic for any reason, but they are here to stay because the concept of the game is simple but difficult. It's easy to play Bubble Shooter, but winning conditions change from one game to another, which forces the player to think independently depending on the current screen. New popular games with great stories and powerful graphics usually only give way to winning the game; In order to win, follow a specific path that leads you to your final destination. No matter how many times you play, the goal and path of it will remain the same. In other words, you get all the cool in-game concepts in high-quality graphics, but when done, you're done. There is no other way to play and win the game, but it is not the case when you play Bubble Shooter.
Bubble Shooter can be played a thousand times and not two games are the same. You have to adjust your winning strategies to each game, which is why the game is both simple and complex. Basics of Bubble Shooter is very simple and can have a childlike design, but do not be fooled. It's easy to play, but hard to master, and therefore Bubble Shooter is recognized worldwide as a classic all the time.
The history of Bubble Shooter
Bubble Shooter is from Puzzle Bobble 2, which was created by Taito Corporation in 1995. Puzzle Bobble 2 was and is a popular arcade game and in 2001 the game's popularity reached new heights by becoming available as a PC game – named Bubble Shooter as we know it today. The game was then developed and published by Absolutist. The different versions of the game were already on the market for some time, but Angry Birds, the game we know it today, was now in operation for the player to install and play at home.
Bubble Shooter was created as a game for children, but the mechanics of the game also attracted a more mature pool of players. The simple concept of launching a bubble/ball in a certain direction, and the name "Bubble Shooter" are not exactly the elements that apparently attract adults, but it quickly became recognized as a game with a deep enough mechanics and complexity despite its immediate simplicity. Therefore, the natural development has been the design of the game Bubble Shooter, not only for PC and game tunes but also for other electronic gaming devices. The simple game design has made the game easily accessible and playable on almost any device. No long introductions, high graphical requirements and complex interplay between characters – simple and challenging entertainment in its purest form. Today, the game is available in many different forms, modifications, and designs on all possible electronic gaming devices, but the concept remains the same.
Game design and layout
When you play Bubble Shooter for the first time, you encounter a box where there are several tiles of bubbles/ balloons/balloons in different colors. This is the default setting of the bubbles, you will need to play accordingly and the result of Bubble Shooter game depends on where you have chosen to aim and hit your own color bubble on those stretches. At the bottom of the box, you find your own bubble that you need to aim and click in the direction you think is most appropriate to remove as many bubbles as possible. When you shoot a bubble, an arrow appears in the bar on your mouse pointer and must, therefore, be easy enough to be able to perform correctly. Next, to the bubble you are about to hit, you want to see your bubble coming. This way you always have a start and you can play after the next bubble awaits you in a Bubble Shooter game.
To the right, you have your game options. In the game options, you can choose to restart the game, ask for help on how to play Bubble Shooter, change game settings like color cards, difficulty, mechanics, and volume. It's easy to change the game as you think fit without changing the nostalgic Bubble Shooter experience. Here you can also see your best personal scores. Once you understand it, it is very easy to improve and by saving your personal files, you always have something to compare. Use your old results as a motivator to become a better Bubble Shooter player. Everything will be more fun, the better – even if it's just a video game. It is not exactly defined as a classic multiplayer game, but you can do it by challenging and competing with your friends and family. Even without a hardware price, a higher score than your friend may at times be more valuable than money.
How to play Bubble Shooter
As mentioned, Bubble Shooter is a very easy game to learn. The rules of the game are very basic so that the game fits all ages as long as you know how to click a mouse, distinguish colors and have some kind of logical argument that you can apply to the game when you hit the bubble. The goal of Bubble Shooter is to remove all the lines of bubbles by aiming and hitting the good ones. Bubble groups are removed when you hit a bubble of a particular color with your bubble of the same color. As part of the game, make sure the group of bubbles you choose to target is the same color as the bubble you are looking for and shoot. You may be lucky if you hit a chain or group of connected bubbles, but usually, you will only be able to remove two, three or four bubbles at a time. If you hit a bubble of the same color, the bubbles are not removed because you have to hit a string of at least two bubbles (including your own bubble).
Find bubbles to aim for. The best scenario would be to aim for at least 2 connected bubbles of the same color as you aim.
Shoot the bubble or bubble chain and hope you reach the target.
Repeat to remove all bubbles from the screen.
Bubble Shooter will add another line of bubbles to make the game more and more difficult as you make mistakes. Because of this, you can not sit back, relax and hope that the game will end on your own, no matter how many mistakes you make – you should always be aware of the right ones to ensure a victory finally. It rewards you on your way to victory when you hit the good, but Bubble Shooter also punishes you to be sloppy at times when bubble connectivity is actually an option.
If you completely remove a color, the color will not appear. When a color is completely gone, you are usually winning the game as Bubble Shooter becomes much easier with fewer colors to work. Of course, larger bunks of smaller color appear and therefore they become easier and require less precision to reach the places you want to reach.
Tips and tricks
For each game, you play there are some mechanisms that, by using them properly, will let you win the game faster or make the game easier for you in one way or another. Despite the immediate simplicity of Bubble Shooter, the mechanism of relaxing the game is a part of it.
Border bouncing
When you play Bubble Shooter, you can use the edge of the box to jump the ball wherever you want. You come to a point in the game where you can not beat a rope or go straight with your ball and the only option seems to be shooting the ball in a place without bubbles of the same color. The experienced player will, however, be aware of his ability to jump the ball from the box and thus hit a chain or a group of bubbles that suits yours. Be aware of all your opportunities and take the time to decide where to aim. You will not be punished because you spend a lot of time, so it will eventually end.
Utilize the time
Think about and consider what movement you do while playing Bubble Shooter. As mentioned above, you will not be punished by spending extra time on a shot. Therefore, it's easy to optimize your score by looking through your options to ensure the right decision. Sometimes the situation will happen if you have two strings or groups of the same color and you will feel free to choose. But you need to consider several things before deciding which string to meet. What is my next bubble and how can this knowledge be used? Is it possible to remove more balls that are not of the same color by hitting one point on another? Can I avoid adding another tile of random bubbles by placing it in a higher place? These are important questions, you should ask yourself every time you shoot to optimize the results. In the end, all these little things make a difference and it does not seem like a big deal, but the right choice on all these questions is the difference between a decent Bubble Shooter player and a good one. To become a better player, consider all your options. Keep in mind that there is no time pressure. Insensitive performance in most cases gives you insensitive pleasure – even in simple games like Bubble Shooter.
Remove a colour entirely
Another strategic element that deserves to be considered is that when the color is removed from the game Bubble Shooter, it will not be repeated. If you have fewer colors, the game automatically becomes less complicated because the probability of getting a string or cluster of a particular color will be greater. In the usual Bubble Shooter game, you almost won when the color was removed from the game, but from the start, you can decide to play specifically against this strategy by opening the space in the areas with many bubbles of a color special. When you play this strategy, you will usually be aware of shooting bubbles in the zones without being able to hit the line just to open the space on the other sides of the box, giving you a better chance of completely removing the color. We do not recommend this strategy because it is very risky. If you do not get the first color sequences you want to delete, the Bubble Shooter game will be almost impossible because extra lines will be added due to many non-real hits. Initially, many extra lines will limit your options while convincing many groups or groups in a row to avoid losing the game before it is already started.
Cause avalanches
When you play Bubble Shooter, avalanches are the easiest way to remove bullets. If you can break the bubble by simply tapping on a string or cluster of a particular color, all the bubbles appear in the workplace, regardless of the color, and the set to which you are destined. An attempt to create "stones" that can cause avalanches can be a rewarding strategy that you can use for your game, but it's usually good for the bubbles to be in the right place for that to happen. While it's amazing, removing the entire episode is the biggest game you can play in the Bubble Shooter game.
Avoid denying yourself
Creating a new group of bubbles from the bottom is difficult without distorting other possibilities. Make sure you do not deny a "hidden treasure" in a failed shot. Sometimes, when you make an error shot, you only hit a spot at random, but that can make you lose money in a rotation. Therefore, you must work to create new sets in areas with many different colors. For example, your unsuccessful (green) shot in the last line of a series of five or six bubbles of the same color (red), limit or deny the ability to take pictures of your next row of red balloons.
How to gain more points
In fact, take your shot by playing Bubble Shooter. However, there are ways to get points faster. The more bubbles you delete in an arrow, the more points you reach.
New bubble games
We regularly add new bubble games when we find a new set of bubbles that meet the quality standard, we place it on our website. Our new game is: bubble blobs have this colorful game over 50 levels that can be played on the card, the graphics are nice, quite nice themed and painted. Each level gets harder.
Another most played game is Bubble Spinner This classic bubble shooter is a popular version of long-lasting. The bubble field rotates when you drag bubbles, giving a whole new dimension.
With our bubble hit game, you can not fool you, this game is popular in the office, plays it calm and relaxed.
Bubble shooter gameplay
bubbles to play online bubble shooter game. It is free, no registration required. Pop the bubbles in your browser right now. Make combinations of 3 or more bubbles to make them disappear and mark. The more bubbles you shoot the more points you get. You win if all bubbles are drawn, if there are no more than any rows, you can make color by making groups of the last ball, if there are no balls with a certain color, they will be back! In the bubble, the photography time is your friend.
The goal is to get as many points as possible to score, you have to hit colored bubbles. Make rows of 3 bubbles of the same color to make them jump. You can score points if you blow large groups of bubbles. Try to aim for the upper bubble with other bubbles as linked below, they will disappear if you hit top bubbles. You move the mouse by moving it left or right. If you click, you shoot a bubble in the direction you aim.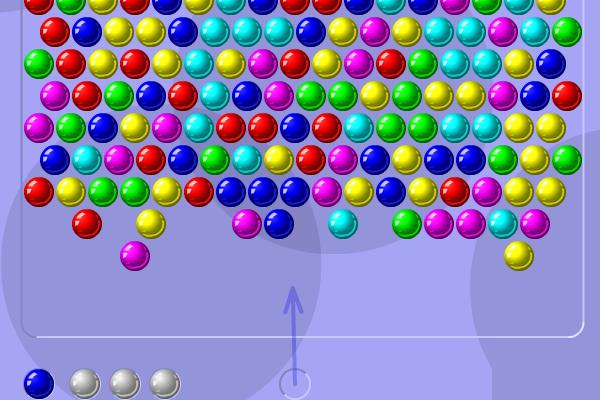 The original bubble shooter game. This is the most played version of the bubble player. The playground with the green, red, purple, blue, yellow and light blue bubbles is unique and has paved the way for hundreds of clones in this successful game.
Tips
There is no time limit, you can choose the right bubbles to show whenever you want. On the left side, you will see the next bubble
You can use the limits to your advantage, your bubbles can jump to reach the difficult places
You play over if the lines touch the ground
Make a combination of bubbles that hang from the lines you blow, they will also disappear
The game ends if the bouncing balls hit the bottom or if you pop up all the bubbles
Bubble shooter Video
This video shows the game sniper see it see how to get well in the game. The trick is to make groups of bubbles if you shoot 3 bubbles at a time, you will not make it to the end.
Screenshots
Our other games
We have several bouncers on our website, just browse for it using the top categories or the left sidebar. We go on the Internet for the best new games to introduce you. When we find new bubble players, we play them on our website. Discover extreme bubbles or bubble puzzle, these 2 classics are good for everyone. Bubbles Extreme is an extreme version of bubble shooter and bubble puzzle is the original version, it's one on a copy of the original game.
Bubble Shooter Rating
Bubble shooter is one of the most played online games, we present the best version of bubble shooter, which is available online. At the site we could honestly play for free.